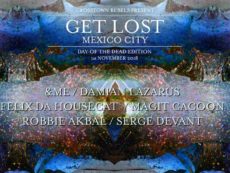 GET LOST MEXICO CITY 2018
DAY OF THE DEAD EDITION
&ME
Damian Lazarus
Felix Da Housecat
Magit Cacoon
Robbie Akbal
Serge Devant
For the second time, Get Lost returns to the beautiful Lomas Altas garden for 12 hours of musical madness.
Celebrating Day of the Dead in Mexico City has become a traditional moment for Damian Lazarus to spread his message of future music and pure love vibes and this November 1st he will be joined by Felix Da Housecat, Serge Devant, Magit Cacoon, &Me and Mexico's own Robbie Akbal.
For those in the know, the Crosstown Rebels' Get Lost parties are best known for their tasteful and unique decor and design, unparalleled sound and hedonistic party people.
This is destined to be one for the history books.
For all VIP inquires contact : contacto@lostnights.mx